Kevin Yelvington
University of South Florida
Tampa, Florida
I never had the pleasure of studying with Sid nor even under one of his students. Formally, that is. Because who could study the Caribbean and not study "under" Sid nor several of his many students? So it has been great to be in touch with Sid over the years since I finished my doctorate and started teaching. That is, the time when I've done probably the most of my learning.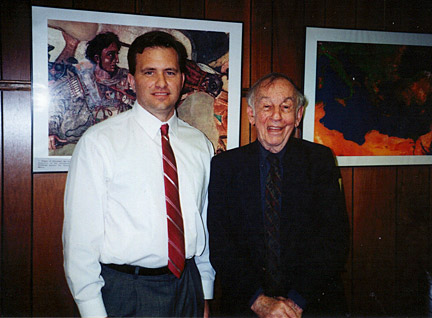 Sid came to the University of South Florida in February, 2002 at my invitation and that of my colleague Trevor W. Purcell, who really was Sid's student at Hopkins. My Caribbean class had been reading Sid's Caribbean Transformations and Sid came and had them and an overflow crowd spellbound in his talk "How Many Globalizations?" where the best presentation room on campus was so crowded that the dean of the College of Arts and Sciences had to sit on the floor. What was more amazing is that Sid's presentation was so lucid, so engaging, and so humorous when the night before we had taken him to the historic Columbia Restaurant in the Ybor City section of Tampa (Ybor City was settled by Cuban cigarmakers in the 1880s) for dinner and a flamenco floor show. To the best of my memory (although Sid at 80 probably remembers better than me at 41), Sid had the Pescado à la Vasca (Fish Basque Style). Below is the recipe:
Pescado à la Vasca (Fish Basque Style)
1 lb. grouper or red snapper fillets
1 large onion, cut in half-moon slices
1 large green pepper, cut in strips
1 teaspoon chopped garlic
1 bay leaf
1/2 teaspoon oregano
1/2 cup olive oil
2 potatoes, boiled, peeled, and cut in 1/2-inch slices
1 15-oz. can tomato sauce
1 tablespoon white wine vinegar
Salt and pepper to taste
Sauté onion, green pepper, and garlic in olive oil. Add bay leaf, oregano, tomato sauce, salt, and pepper. Add fish fillets to sauce and poach for 7 minutes. Add vinegar, then potatoes, to sauce; simmer for 2 minutes. This is also delicious when made with white solid-packed canned tuna instead of fresh fish. Serves 2.
Recipe from: Adela Hern‡ndez Gonzmart and Ferdie Pacheco, The Columbia Restaurant Spanish Cookbook (Gainesville: University Press of Florida, 1995), pp. 116-17.