Chee Beng Tan
Hong Kong
Sidney Mintz has been a good friend of the Department of Anthropology at the Chinese University of Hong Kong. He was twice visiting professor, teaching for a semester here in spring 1996 and again in spring 1999. Both the teachers and students here have been quite inspired by him. He has been a popular and well-liked figure, as a renowned anthropologist who is so humble and so helpful to younger scholars, and also as a good friend.
Every member of this department has his or her own fond memories of Sid's time here. To mention just a few: Tan Chee Beng recalls how Sid and Jackie enjoyed not only eating good Chinese food with he and his wife Swee Hiang, but also talking about food: legumes, tapioca, taros and the migration of foods. Chee-Beng wonders which pastime Sid enjoyed more! Gordon Mathews enjoyed many happy hours spent drinking Manhattans with Sid at the CUHK faculty club, and listening to Sid's reminisces about Ruth Benedict; and he can never forget the extraordinary Japanese dinners he and his wife Yoko enjoyed with Sid and Jackie in Hong Kong. Sidney Cheung took Sid and Jackie to some of the more unusual restaurants and exotic cuisines available in Hong Kong, from Hakka to roast pigeon; some of the more conservative members of this department were amazed that they returned as fit and fat as ever from such adventures. To offer one last memory: to our amazement, Sid made his goodbye speech to us all in 1996 not in English, but in Cantonese, bad Cantonese to be sure, but Cantonese! He had been secretly studying all semester.
Sid has been very supportive of the department's research on food initiated by Prof. David Wu. He has contributed to colleagues' recent publications on food, namely Changing Chinese Foodways in Asia (edited by David Y.H. Wu and Tan Chee-Beng, Chinese University Press, 2001), and The Globalization of Chinese Food (edited by David Y.H. Wu and Sidney Cheung, Curzon, 2002). He also engaged in research with Tan Chee Beng on bean curd [see Ethnology 40(2) 2001: 113-128], a project they have extended to the study of soybean products and legumes in the U.S. and in other parts of Asia. Beyond this, Sid read over manuscripts by colleagues in the Department, giving careful and highly useful criticisms. He was extraordinarily unstinting with his help during his stay in Hong Kong, popping his head into our offices and saying, "Do you have anything of yours for me to read?"
On this, his 80th birthday, all of us in anthropology at CUHK wish Sid a very happy birthday. We look forward to getting together again, to share jokes and to learn from his experience and grow from his encouragement.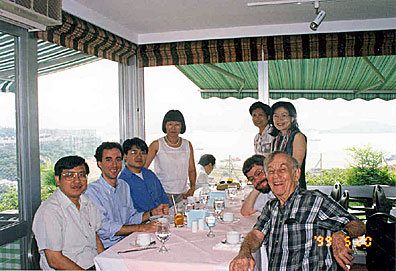 1. Sid with colleagues of the department of anthropology, the Chinese University of Hong Kong (CUHK) as well as with visiting scholar Josephine Smart (left, standing) at the CUHK staff club in May 1999.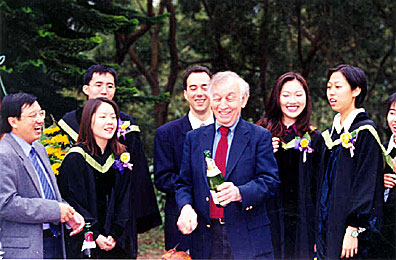 2. Sid at the CUHK anthropology graduating students' celebration, spring 1999. (Left: Tan Chee-Beng, behind Sid: Joseph Bosco).
3. Sid with Gordon Mathews, spring, 1999, engaged in an activity whose meaning remains mercifully obscure.