Christine DuBois
Philadelphia, Pennsylvania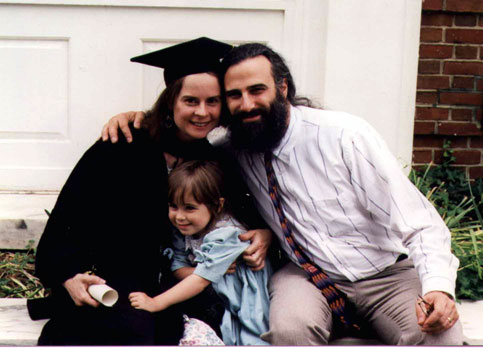 My favorite memory of Sid (so far!) is watching him crack up a Chinese-American informant—the owner of a Philadelphia tofu factory—by telling the gentleman about the soy products Sid had eaten in Hong Kong. He and Sid were apparently discussing "stinking beancurd," a fermented product which Sid tells me smells so bad that in response to citizens' complaints, the Health Commission in Hong Kong has at times closed some of the shops that sell it. I recall our Chinese-American informant exclaiming, with astonishment on his face, "I can't believe you ate that stuff!"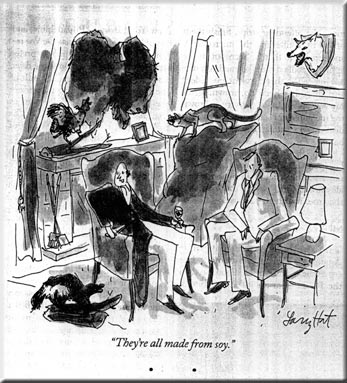 Soba Medley
(from Entertaining with a Japanese Flavor, by Kiyoko Konishi)
Ingredients:
1 lb. dried soba noodles
For Stir Fry
1 lb (450 g) ground pork
1-inch piece of ginger root, chopped fine
1 or 2 green onions (green parts only), sliced thin
1 tsp. cornstarch, dissolved in 2 tsps. water
2 tsps. vegetable oil for stir-frying meat
For Seasoning
2 Tbsps. sake
1 Tbsp. sugar
1 Tbsp. mirin
3 1/2 Tbsps soy sauce
1/2 cup water
2 tsps. ginger juice (grate ginger root and squeeze out juice using your fingers)
Condiments
2-3 Tbsps. prepared wasabi
fine strips of rind from 1 lemon
1/3 cup chopped green onions
1/4 cup grated ginger
Preparation:
Combine seasoning ingredients. In a heated frying pan with measured oil, fry chopped ginger for a moment, and add ground pork, stirring continuously. When the color has changed, add seasoning and cook 1 more minute. Mix in green onions, then stir dissolved cornstarch into mixture to thicken.

Cook dried soba noodles: add soba noodles to 3 quarts boiling water, stirring to keep noodles from sticking together. When the water returns to a boil, add 1/2 cup cold water to reduce the heat and to prevent the outer coat of the noodles from dissolving. Two or three more times let water come to a boil and reduce heat again with 1/2 cup cold water. Follow directions on the soba package (cooking time depends on thickness of the noodles), cooking until al dente. Drain and rinse under cold running water, tossing noodles lightly with fingers to remove any remaining starch. Drain well and mound on a platter. Serve immediately with stir-fried pork and condiments.