Jutta and Berndt Ostendorf
Amerika-Institute
München, Bavaria
My wife Jutta, my two sons Kai and Tim and I join the chorus of well-wishers for Sid's 80th birthday (and, from his grave under an oak tree in Oberbayern alas, our cat Nicky chimes in).
We all recognize Sid's influence as a scholar. I remember well how the first two of his articles that I read in 1971 literally sent me flying on my career as an Americanist: "Toward an Afro-American History" and the introduction to Whitten/Szwed's Afro-American Anthropology. Sid's writings became assigned reading in our African American History classes, and his influence took deep roots at the America Institute of Munich University. One of my students here, Stephan Palmié, became a Sidney Mintz fan and a student of the Caribbean, and is now a member of the University of Chicago department of Anthropology. Hence Sid's scholarly impact is well know and literally self-evident in departments all over the world. But there is another, more subversive track that requires our attention.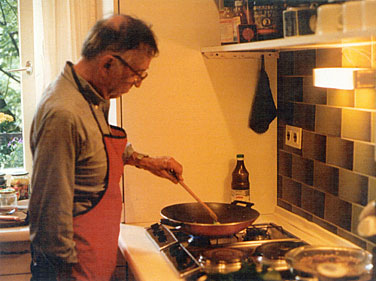 Two of the enclosed photos show Sid cooking in our kitchen on Wittelsbacherstrasse drinking our Hauswein: Longuicher Maximiner Herrenberg Riesling Spätlese Trocken. Looking on and helping him is our son Tim. (The reversed baseball cap may be read as a sign of cultural submission to American hegemony). At the time, in 1991, Sid was the Eric Voegelin Distinguished Visiting Professor at the Amerika Institut, and from the looks of it he is preparing something both complicated and Chinese.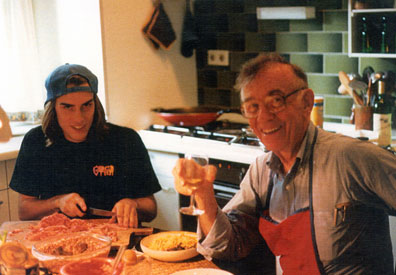 As a child our son Tim was a most difficult eater, the incarnation of negative nutrition who would not touch anything that he had not eaten at least for two or three years running: the sort of eating habit that leads inexorably to Fast Food. Sid changed all that. Tim became passionately interested in food. Indeed, after an aborted fling at engineering, Tim changed to cooking school, passed his "Gesellenprüfung" and became a chef, now working at the Marriott Hotel in Munich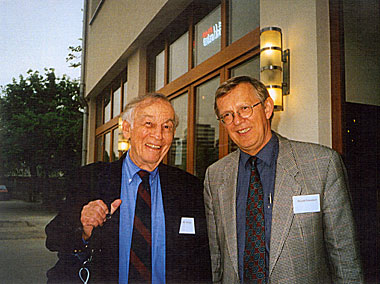 The other photo shows Sid and me on our way to a Food Conference in Frankfurt in April 2000 where Sid and I lectured on American food traditions.
When it comes to eating I hold my own; when it comes to cooking I have to tread softly before mighty Sid. My recipe is the simplest in my repertoire. It depends less on the combination of ingredients than on their freshness and quality—and on the manner of slow cooking.
We join Howland Owl, Albert, Pogo and Churchy la femme in singing:
Happy birdies, two ewes
Happy birdies, two ewes
Happy birdies, dear Sid
Happy Birdies two ewes.
Country Fish Soup
Cut everything in slices of ca. 1 centimeter thickness
2 white onions
2 Belgian tomatoes (ripe) (if ripe tomatoes are not available, Italian peeled,
canned tomatoes are better—without the juice)
1-2 Bell peppers
2-3 potatoes (Sieglinde festkochend)
Fresh whole middle size fish cut in one inch slices (bass, dorade, mackerel, halibut
—whatever is fresh on the market—either separately or as mixture)
1-2 very hot, small pepperoncini
1-2 cloves of garlic, thinly sliced
Add 1 cup of extra dry white white (Riesling, Muscadet, Entre Deux Mer)
1/4 cup of Virgin Olive Oil
Salt to taste
The vegetables and fish should be packed relatively tightly in layers and fill at least 3/4th of the heavy bottomed pot.
Close the pot air-tight
with aluminum foil & a strong rubber band to keep it in place. Then bring pot quickly to a low simmer. When aluminum begins to bulge from the steam developing in the pot turn the heat down and let cook for ca. 40 min on the lowest heat possible. (Steam should develop gently, not too much of it should escape—hence the secret of the dish lies in keeping the simmer as low as possible).
The juices of the vegetables join the olive oil and wine in a rich, yellowish mix that carries a nice kick. In terms of taste, the Sieglinde-cum-fish taste will tend to dominate.
Serve with a Riesling (see above), Muscadet or Entre Deux Mers.