Harry Hoetink and Ligia Hoetink-Espinal
Bussum, Netherlands
Dear Sid (and Jackie):
Happy 80th birthday, Sid! For half of these years that you carry so lightly, we have been friends.
From Rio Piedras in early sixties' Puerto Rico, to present-day Amsterdam (with memorable encounters in New Haven and Baltimore in between), from arroz con pollo then, to raw salted herring now, we have shared food, fun and philosophy.
Thank you for your friendship! We have a standing reservation at "De Colonie" restaurant, in case you want to test their salsify (schorseneren in Dutch) again!
Abrazos,
Ligia and Harry Hoetink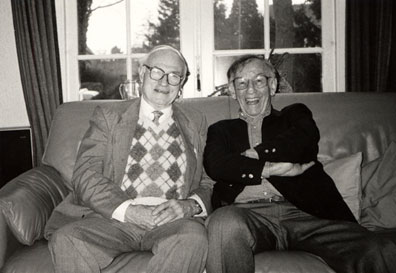 Dick Morse and Sid
(from Harry's retirement party)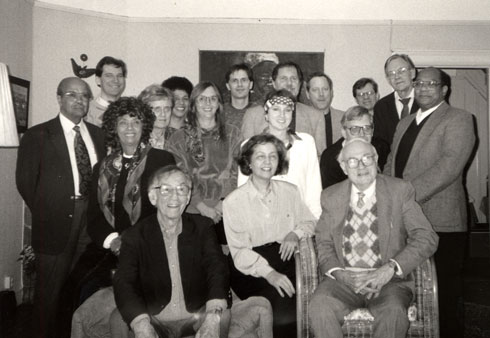 Harry Hoetink is the second from the right in the last row.
Sid with Dick Morse again…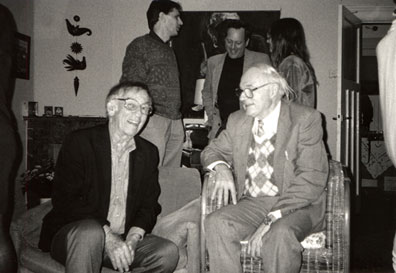 Dear Jackie and Sid:
I hope you'll enjoy adding this easy-to-make recipe to your international cooking repertoire. It is traditional to Curaçao, where I spent my childhood years, growing up in the beautiful 19th-century Sephardic quarter called Scharloo. Sid has often observed how ingredients from all over the globe often converge on one spot and become a popular local dish. So it is with this Salmon Pudding with its many imported ingredients. A definitely Caribbean twist is the addition of sweet raisins to the salty taste of fish, olives and capers.
Curaçao Salmon Pudding
1 can salmon (220 gr.)
50 gr. butter, softened
1 slice day-old bread (either white or brown)
2 eggs, separated, at room temperature
1 tbsp. milk or cream
1 tbsp. chopped, sauteed onions
1 tbsp. chopped parsley
salt, ground pepper, pinch of nutmeg, capers, some chopped piccalilly , olives and raisins.
Remove bones and skin from salmon, drain, flake and mash. Stir butter until creamy and mix with salmon. Soak bread in milk mixed with egg yolks. Break bread into crumbs, add to fish and mix. Add sauteed onions and all other ingredients and mix well. Beat egg whites until stiff and carefully fold in salmon mix.
Generously butter a small (1 quart) pan or casserole. Add salmon mix. Cover. Place pan au bain Marie in water reaching up to 3/4 of the pan. Cook 1 hour at about 300° F or until knife inserted in center comes out clean.
Serves 4 persons as an appetizer. Quantity can be doubled, but using only 3 eggs.
Ligia Hoetink-Espinal