Wilda Anderson
Baltimore, Maryland
I loved Sid's recent article on the historical topology of cuisine, in which he argues that for many peoples, especially the less wealthy, tasty (often protein) morsels surround the starch base. As a souvenir of our many sometimes heated discussions, of the many culinary exploration dinners Sid has cooked with Milad and me…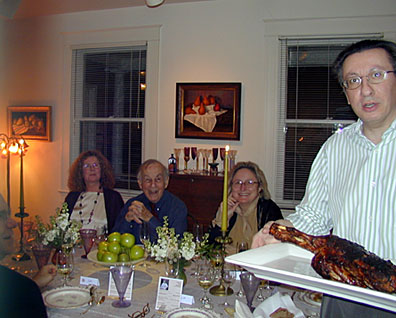 (Here Sid is awaiting Milad's serving of a grilled haunch of wild boar)
…and as a contribution to his ethnographic database from a non-anthropologist, I thought he might like the following recipe from my Swedish grandparents. It is a follow-on to his protein-and-starch dishes, a dessert recipe for the poor that follows Sid's model. My farm-worker immigrant relatives brought it with them from the countryside around Lund and made it an integral part of the family's Christmas Eve celebrations. Happily, they left the lütefisk at home. By the way, I remember that there is a sad scene in the movie The Emigrants in which Liv Ullman's small daughter dies from eating this pudding before it is ready; I didn't eat sweet white rice for a year after seeing the film. The way it is prepared now eliminates this problem—one of the many advantages of a double boiler.
Grandma Anderson's Sweet White Rice and Red Pudding
(Rigrit and Rürgrit):
1/2 cup plain white rice (don't use basmati! It has too much taste.)
3/4 cup milk or water
Cook in a double boiler until the milk is absorbed, about 30 minutes. In the old days, when milk and fuel were expensive, the rice was soaked overnight in water in the cold shed and then drained; the temptation for hungry little children to sneak in and eat the only partially-swollen rice and do themselves serious internal damage was great, and the cold shed was normally locked to keep them out.
1/ 2 teaspoon of salt
2 1/4 cups whole, not lowfat, milk
Add to the already partially-cooked rice, stir and cover, and cook until the milk is again absorbed, about 1 1/2 hours.
1/3 cup sugar
Stir in, and pour the sweet white rice into a bowl to cool, then chill it. If you can't afford to serve it with rürgrit, you make a thin cross in ground cinnamon on the top of the pudding before it chills. Don't cover in the refrigerator, as the skin that tops it is part of the texture.
For the rürgrit, use either fresh or frozen blackberries (this is what is conventionally used in the US) or, if you can get them, the traditional Swedish lingonberries. You will need a couple of pounds at least, which you cook over low heat with about a half cup of water until they render their juice. You need 2 cups of this HOT fruit juice, to which you add:
2 Tablespoons of cornstarch
3 Tablespoons of sugar
3 Tablespoons of water
all mixed into a paste. Stir continually over low heat until clear and thick. Chill at least 24 hours. It will not become hard, but will remain a thick pudding-like liquid. Then: for each person, make a dome of sweet white rice in the center of a bowl or a deep plate and surround it with some of the rürgrit. You eat sweet white rice by spooning out a big bite and dipping it into the very tart and not very sweet red pudding, which gives the dessert its flavor.